Article content
For now, it looks like the Elias Lindholm-Jonathan Huberdeau experiment is over. 
Article content
The Calgary Flames have remained dedicated to trying to make the duo work this season, but on Monday morning in Montreal it appeared the team is going to go in a different direction – for a game, at least. 
Article content
Huberdeau is struggling to find his A-game to the point where head coach Ryan Huska benched him for the entire third period of last week's win over the Nashville Predators. He and Lindholm do not appear to have built much chemistry during the Flames' 14 games.
And so, at Monday's practice in Montreal ahead of Tuesday night's game against the Canadiens, Huska relegated Huberdeau to third-line duties alongside veterans Mikael Backlund and Blake Coleman. 
"I think when you're putting your lines together based on the opponents you're playing against, Mikael sees a lot of minutes against good lines," Huska told reporters in Montreal. "I think that the way Mikael and Coles are playing will allow Jonathan to be himself a little bit more."
Article content
There's been a lot of ink spilled about what exactly the Flames can do to try to get Huberdeau back to being something resembling the player he was two years ago when he was with the Florida Panthers and put up 115 points.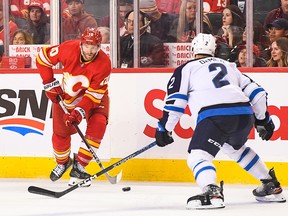 Nothing has worked, so far. 
His production fell off a cliff last year, when he ended the season with 55 points. 
He started the 2022-23 season alongside Lindholm, but then-head coach Darryl Sutter quickly determined that wasn't working. Huberdeau spent most of last season on the Flames' second line with Nazem Kadri at centre and a rotation of guys on the other wing. 
There was hope coming into Year 2 of his stint in Calgary that with a new head coach who was more open to offensive creativity that Huberdeau might rediscover a little bit of magic in his game. If that happened, maybe he and Lindholm could show more than they did when they were together last year. 
Article content
Since the start of training camp, the Flames have tried inserting Yegor Sharangovich, Dillon Dube and Andrew Mangiapane at right-wing on the Lindholm-Huberdeau line, but it hasn't yielded great results. They've moved Huberdeau around a bit, too. This is not their first attempt at trying him out with new linemates this season. 
Lindholm is currently tied for the team lead in points, with eight, while Huberdeau is right behind him with seven, but Huberdeau has one of the worst plus/minus marks in the league, at minus-13, while Lindholm is a less-than-stellar minus- four. 
Maybe, just maybe, placing Huberdeau on a line with two defensively-responsible teammates – not that Lindholm doesn't fit that description – will help him start to turn things around.
That's the hope, at least. 
Article content
"(Huberdeau's) done a lot of things really well," Huska insisted to reporters in Montreal. "We talk a lot about last year and the adjustment he had to make but he's a really good hockey player and he's an important piece of our team. When he's moving his feet and controlling the puck he's a real good player and that will come."  
As for Huberdeau, there were no complaints on Monday morning about the move. He deserves credits for the way he has handled the spotlight that's been placed on his struggles, and he's hopeful that his new linemates can be a good match. 
"(Backlund's) a player who plays a simple game," Huberdeau said in an interview with The Athletic's Julian McKenzie on Monday. "I think, at this moment, that's what I need. He plays well defensively, offensively. I think we had some success last year. Also, but him and Coleman are playing well. 
Article content
"It's on me to play with them and to help myself, too."
MARKSTROM RETURNS
After missing the last two games with an injury, Jacob Markstrom was back between the pipes at Monday morning's practice. 
All indications are that he will start against the Habs after Dan Vladar played on Friday against the Toronto Maple Leafs and Dustin Wolf got the call on Saturday night against the Ottawa Senators. 
"Obviously, it's always frustrating when you're not practising and you're not playing games with the guys," Markstrom said. "It's been a few days since I had a practice with the team because we played back-to-back so it was good to be out there. Body feels good."