Moe and his government will give the people of Saskatchewan a break even if Trudeau does not
Get the latest from Rick Bell straight to your inbox
Article content
Monday was Premier Danielle Smith's big day, rolling out the Alberta government's big plans.
Article content
But, on this day, it was Saskatchewan Premier Scott Moe who really upped the ante in the argy-bargy with Ottawa.
Article content
On this day, Moe told Ottawa to go to hell with their carbon tax on home heating bills in his province and put some muscle behind his message.
If the Liberal government doesn't nix the carbon tax on home heating bills in Saskatchewan like Prime Minister Justin Trudeau did for three years on heating oil, a big source of warmth in the Atlantic provinces, then Moe will bring the heat.
Moe will not play patsy for Trudeau.
The man speaks softly but carries a big stick.
And he's prepared to use that big stick on the Trudeau government if they continue to favour one part of the country over Saskatchewan.
On Monday, Moe lays out the stakes for Trudeau.
Article content
If Trudeau stays the course and leaves Moe's province out in the cold, expecting them to pay the carbon tax on their home heating bills while others in the country do not …  well … the crap will hit the fan.
You see, come this January 1, SaskEnergy will not collect or submit the carbon tax from home heating bills to the federal government.
SaskEnergy is a Crown corporation of the Saskatchewan government delivering and selling natural gas in that province.
Moe and his government will give the people of Saskatchewan a break even if Trudeau does not.
He realizes the Trudeau government may say not collecting the carbon tax on home heating bills and handing it over to Ottawa is illegal.
But Moe says the federal government has created two classes of taxpayers and Saskatchewan and, for that matter, Alberta are in second class.
Article content
Recommended from Editorial
Alberta throne speech focuses on fight against Ottawa, new tax curbs, but no mention of provincial pension plan

Alberta UCP, NDP oppose Ottawa's carbon tax reversal on home heating oil
Like many of us, Moe is clearly fed up.
Fed up with a Liberal bigshot who said people on the prairies should elect more Liberals if they want more consideration.
Actually, the Liberal insider Gudie Hutchings has it all wrong.
People could just vote for someone who would axe the tax.
Moe is also fed up Trudeau is picking winners and losers and that's no way to run a country.
The prime minister is desperate to right the Liberal ship and will even throw part of his sacred carbon tax crusade overboard to try to cozy up to Atlantic Canada, win some lost votes and save his government's sorry skin.
Article content
"We're adjusting policies so they have the right outcome," says Trudeau.
Make no mistake. The right outcome is about him, not Mother Earth.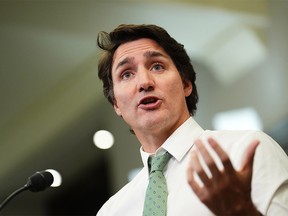 In Alberta, Premier Danielle Smith says her hands are tied.
Moe can be the tough guy. SaskEnergy is government.
Alberta is a private market.
Smith won't ask private operators to be "out of compliance with the law."
A newshound asks Smith if the province's sovereignty act could be used to defy Trudeau.
Smith says the Supreme Court of Canada has already rendered a judgment on the carbon tax in favour of the feds.
But the Alberta premier says the decision needs to get a second look. She's asked her legal beagles to give it the once-over.
Perhaps the Trudeau government is not living up to the spirit of what the court determined.
Article content
Smith is deeply troubled Trudeau is playing one region against another.
She says his government is not acting in good faith.
They're not being fair.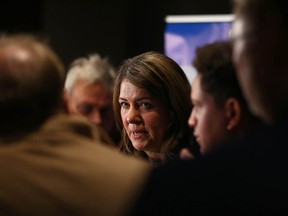 Canadians everywhere are hurting because of the carbon tax.
Smith wants the Trudeau government to do the right thing.
They think they are doing the right thing. Holding on to power at all costs.
And screwing provinces who don't vote for them. Like that's a revelation.
Once again, Smith says she is prepared to use the province's sovereignty act and not follow the Trudeau government if they cook up an aggressive cap on oil and gas emissions and push a net-zero emissions electricity grid in 12 years.
"There are powerful forces in our country, including in the federal government, that believe our province must fundamentally alter our provincial economy and way of life," says the Smith government's blueprint for the days, weeks and months ahead.
"I live in hope reality will set in," says Smith.
Many in these parts hope the Flames win the Stanley Cup but they're not betting the farm on it.