There is a sizeable group of Calgarians who say they don't want to see tax hikes and especially yearly tax increases of almost 8%
Get the latest from Rick Bell straight to your inbox
Article content
Your tax hike was set at 3.4% for next year.
Article content
Now it's headed for 7.8% unless someone stops the Cowtown Kremlin freight train.
Article content
The die is cast. The chinwag over taking even more cash from you kicks off Nov. 20 at city hall.
The city hall bigwigs expect you'll grumble a little and then shut the hell up.
After all, that's what Calgarians do almost every single time.
This week, Mayor Jyoti Gondek and the city hall brass set up the tax grab.
They know the script cold.
They don't have enough money. They have pressures.
The city has handled your tax money exceedingly well.
They've worked hard to keep taxes low. They've saved you money.
You've actually been getting a tax break because they taxed businesses more than they should and taxed you less than they should.
They're called upon to do more and more. They're not spending. They call it investing. So much nicer.
Article content
Besides, they're just doing what you told you them you wanted them to do.
They had 30 possible new spending items. They want to spend on 28 of them.
On a slide they show us operating spending for next year, well …
It's $5.516 billion that was approved.
Now the proposed spending is $5.851 billion. The bump up is $335 million.
On Oct. 4 your scribbler's column was entitled: Calgary city hall swims in billions, pleads poverty.
Six years ago, your scribbler's column was entitled: Calgary city hall has lots of dough. Yours.
Nothing changes.
Recommended from Editorial
If more tax shifts to residential, Calgary households could see almost 8 per cent increase

What's a mill rate, again? explaining the jargon of council's upcoming tax discussions

Calgary's business-residential tax ratio forecast to widen further: report

Property tax ratio needs to change to help business community: Gondek
Article content
Gondek and two of the city's top-drawer paper-shufflers appear in front of the newshounds.
Gondek says they've been making cuts at city hall. They can't keep it up. They're letting people down.
What about getting the tax hike number down?
"There have been many times when members of council have come forward and said: Let's just cut $60 million from the budget. We don't care how you do it, just please go and do it," says the mayor.
Gondek says core services have been overlooked for years.
Carla Male, city hall's boss bean-counter, is asked where if there is any austerity or reductions.
"Continuous improvement is just part of our DNA," she says.
They have a number of different programs looking at value for money. They have a new program.
Article content
Blah, blah, blah.
Surely if city hall was serious, there are no doubt big brains somewhere who could bring their own pair of scissors and find the Cowtown Kremlin's not-so-buried treasure and ease the load of taxpayers in these unaffordable times.
Apparently, there is no need. Nothing to see here.
"All of the obvious efficiencies have been harvested by this organization.
"You will not find austerity measures."
So there.
Still, there is a sizeable group of Calgarians who say they don't want to see tax hikes and especially yearly tax increases of almost 8%.
Mayor Gondek brushes them off.
"Every survey will say: I would love to have more services and I would love to pay less taxes. That is just human nature. That is the way we are engineered."
Article content
So there.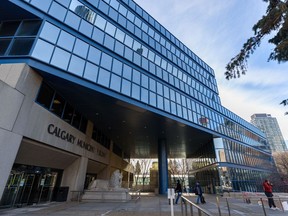 The sad story is none of it will likely matter. None of it.
There has not been a tax revolt in this city in 15 years when citizens headed in droves to city hall to question the politicians and protest the tax hikes.
Can still recall one councillor with a petition, another sympathizing with the crowd, the mayor and council's budget point man taking the heat from taxpayers.
And, of course, the biggest tax-and-spenders on city council not showing up to face the music.
Yes, a 7.8% tax hike for next year.
There will be the usual howls of outrage.
Down with Gondek! Go to hell, city council! You're going to pay for this!
We'll show you what happens when you disrespect taxpayers, just you wait and see.
Noise.
A strongly-worded letter or two to the editor as if the editor can do anything.
Article content
A boo-hoo-hoo or two on Facebook. That's telling them. Not!
And, when the election comes around, fewer than half of the voters vote and, when the votes of those who do vote are counted, the latest city council is worse than the last one.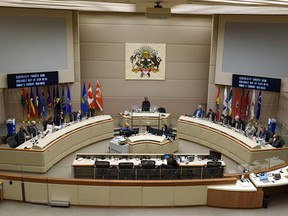 Calgarians had their chances to insist on change over the years. Hundreds of stories. Thousands of stories.
Report cards showing where city council had gone wrong.
But when it comes to the day to render the verdict too many are MIA.
Already, a councillor or two this time around says they will fight the tax hike.
But how loudly and how strongly will they hold to what they claim are their convictions?
Or is the city budget story the usual much ado about nothing?
Will this year be any different?