'All of Trudeau's MPs sold out their constituents,' says Conservative leader Pierre Poilievre
Get the latest from Rick Bell straight to your inbox
Article content
There is no way to sugarcoat it.
Article content
There is no way to explain it to Albertans.
Article content
Excuses just won't cut it.
We're not stupid. We won't buy the bull.
It is a sellout, plain and simple.
Two Alberta Liberal members of parliament, Calgary's George Chahal and Edmonton's Randy Boissonnault, vote against the federal Conservative push to see all home heating bills get a reprieve from the carbon tax and not just the bills of those using heating oil.
Trudeau's stunt is to have the vast majority of Canadians still pay the carbon tax on home heating while a very small minority get a break, mostly in Atlantic Canada where the prime minister needs to boost his party's popularity and where Liberal MPs from down east pushed the PM.
It is Trudeau and his trademark cynicism on full display. Again.
Article content
And, at gut-check time, all the Liberal politicians in Ottawa toed the line.
"All of Trudeau's MPs sold out their constituents," says Conservative leader Pierre Poilievre, and they did.
Conservatives vote for all Canadians to get a break from the carbon tax on their home heating bills.
NDP MPs vote with the Conservatives, while the Trudeau Liberals and the separatist Bloc Quebecois vote to give us the shaft, refusing to give us what most of us want.
Poilievre talks about a new Liberal-Bloc carbon tax coalition and a carbon tax election sometime in the future.
Now it's the separatists taking their turn to prop up the prime minister.
What a country.
Recommended from Editorial
Conservative push to expand carbon tax carve-out fails as Bloc sides with Liberals

Premiers say Ottawa must ensure carbon pricing measures are fair to all Canadians
Article content
Monday morning, Michelle Rempel Garner, a Calgary Conservative MP, wonders how the Alberta Liberal MPs will vote.
"Hope springs eternal," said Rempel Garner.
Hope dies Monday afternoon.
The MP says a lot of Liberal MPs "have really lost the ability to think for themselves."
She says the carbon tax is not working to reduce greenhouse gas emissions. It's just another increase in the cost of living along with all the other increases in the cost of living.
"People understand it's got to go. This is a no-brainer."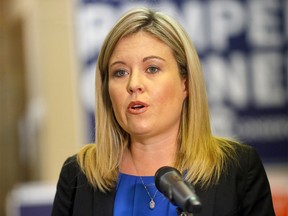 The Liberals cling to their tax.
Rempel Garner says they are causing folks a lot of heartache.
The Trudeau Liberals are in turmoil, with no vision for the country and out of touch with reality.
Meanwhile, the premiers are in Halifax rallying around fairness for all Canadians.
Article content
Manitoba's NDP premier Wab Kinew says people are suffering and the carbon tax is not a silver bullet when it comes to climate change.
There were premiers wanting more than a pause from the carbon tax. They think it should be gone.
On the weekend at her party's convention, Alberta Premier Danielle Smith tells newshounds she figures the Supreme Court of Canada didn't give the Liberals the authority to impose a carbon tax where they can "manipulate it for political favouritism."
She says by fiddling with the tax and treating some Canadians more equal than other Canadians they've "undermined their entire argument."
Smith says she's checking out whether Alberta can take the feds back to court and have the Trudeau carbon tax struck down.
Article content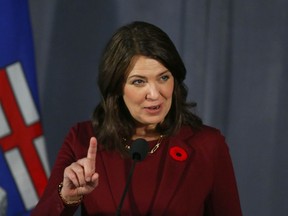 Before the vote, Dominic LeBlanc, another Trudeau sidekick, defends not giving us a carbon tax break on home heating bills.
"We have policies that have to be adapted to provincial realities."
Dominic, tell your green guru Steven Guilbeault to adapt his pie-in-the-sky plans to the provincial realities of Alberta and Saskatchewan.
LeBlanc keeps digging.
"When we're talking about 13 premiers who get together and decide to criticize the government that shouldn't be news to you," he tells Ottawa newshounds.
"We're not going to deviate from our policies." You already did.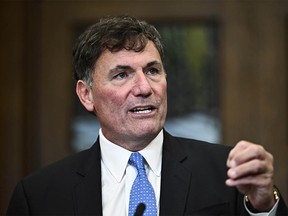 Monday afternoon it's question period
Trudeau is not in the House of Commons.
Poilievre says he's hiding. Conservative MPs ask whether Liberal MPs will be allowed to vote free from the whip of party discipline.
When the voting is announced, we know the result before the votes are counted.
We lose again.
The only drama is when Ken McDonald, a Liberal MP, is accused of giving the finger as he stood to vote.
The Liberal MP claims he was scratching the side of his head with two fingers.
Meanwhile, the question for Rempel is: "Do the Liberals give a damn about Canada?"
"The jury is firmly out on that question, Rick, to put it mildly."
Many jurors have already decided.
The Liberals don't give a damn.